1st Team Squad 2018








Keeley Clarke
Torquay

Lexi Dart
Churston

Charlotte Dommett
Torquay

Caitlin Evans-Brand
Yelverton

Grace Jackson
Exeter






Abbie Moyes
Tiverton

Molly Pavey
Torquay

Lauren Pearce
Woodbury Park

Meg Rossouw
Yelverton

Jo Shorrocks
Bigbury

















Evie Stone
East Devon






Abby Turner
Okehampton





| | | |
| --- | --- | --- |
| | | |
| Chris Longden - County Captain | Sally Charnock - Team Manager | Tiffany MacKenzie - County Coach |
1st Team Training Weekend at St Enodoc
Sat/Sun 24-25th March 2018
11 Squad members, Captain Chris Longden, Team Manager Sally Charnock and Team Coach Tiffany Mackenzie met at St Enodoc on Saturday 24th March in rather wet drizzling conditions.
The weekend began with a team talk by the coach regarding various aspects of the St Enodoc links course. Tiffany advised the team they would be looking specifically at tactical approaches to playing the course to assist them during Inter-County Match Week in July - given it is a tough, demanding course both physically and mentally.

This was followed by the squad walking the course with the coach in order to glean local knowledge and for the squad to familiarise themselves with the course as much as possible in preparation for match week.

A practice round of 18 holes individual Stableford was played on Sunday 25th in glorious spring sunshine.

The squad stayed overnight at the Travelodge, Wadebridge and enjoyed an evening meal together which was a great opportunity for some team bonding.
February 2018 Training Session
On Sunday, 18th February, 11 of our County first team squad attended the first training session of the year at Saunton Golf Club. The theme of the day was 'links golf' in preparation for Inter-County Match Week. This year it is being played over the fine links course of St Enodoc starting on 2nd July 2018.

After being put through their paces in the morning, the session was followed by a short lunch break then nine holes on Saunton's East course under the watchful eye of County Coach Tiffany Mackenzie. It was an excellent session which was enjoyed by all.
Thank you to Russell Mayne and Saunton Golf Club for the use of their facilities and for looking after us so well.
| | |
| --- | --- |
| | ​ |



Autumn Training Days 2017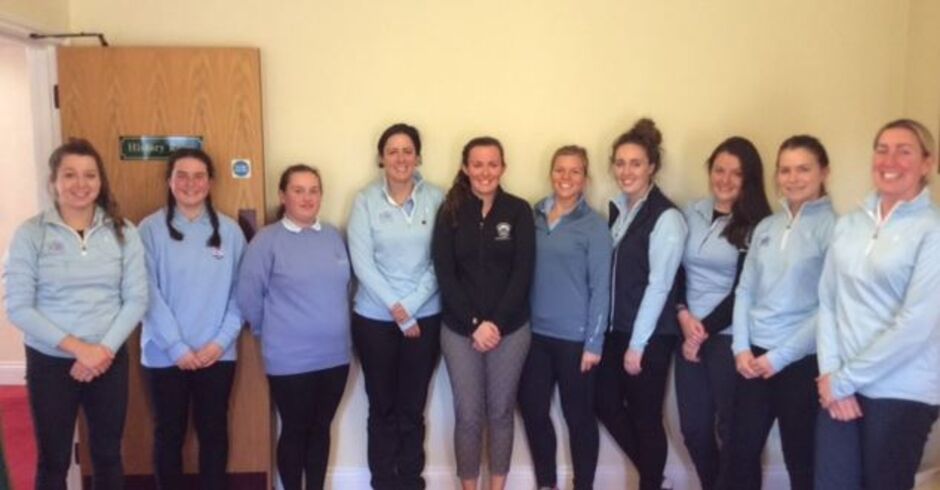 The second on the County Squad's autumn coaching days was held at Tiverton Golf Club on Sunday, 12th November following the previous session held 2 weeks earlier. The two sessions were specifically structured to short game skills and Tiverton's excellent new short game facilities were a perfect venue. County coach Tiffany MacKenzie had set up a number of putting and chipping skill tests and drills which gave the girls plenty to practice over the winter months, some of which can be done from the comfort of the living room!
Jess Bradley, Devon's own Ladies' European Tour player, kindly attended both sessions and held a question and answer session with the girls. The questions were wide ranging from how difficult was the jump from the amateur ranks to the professional game, course management and planning, practice and fitness schedules, pre and post shot routine, nutrition on and off the course, life at university in America, mental approach to stroke play and match play, life on tour and many more. We thank Jess for her time. A few faces fell when she told us that the food to take on the course was bananas, cereal bars and nuts and definitely not chocolate and Haribos!
After lunch the girls played a competitive 9 hole 3 person team event.
Many thanks to Tiverton Golf Club, Jess Bradley, Tiffany MacKenzie and Sally Charnock for two excellent sessions.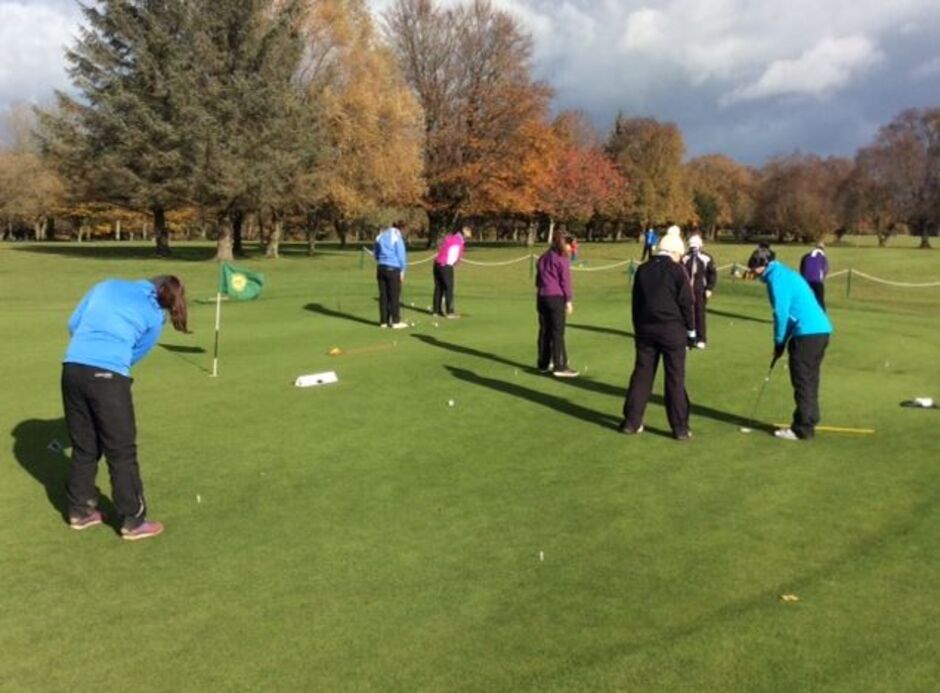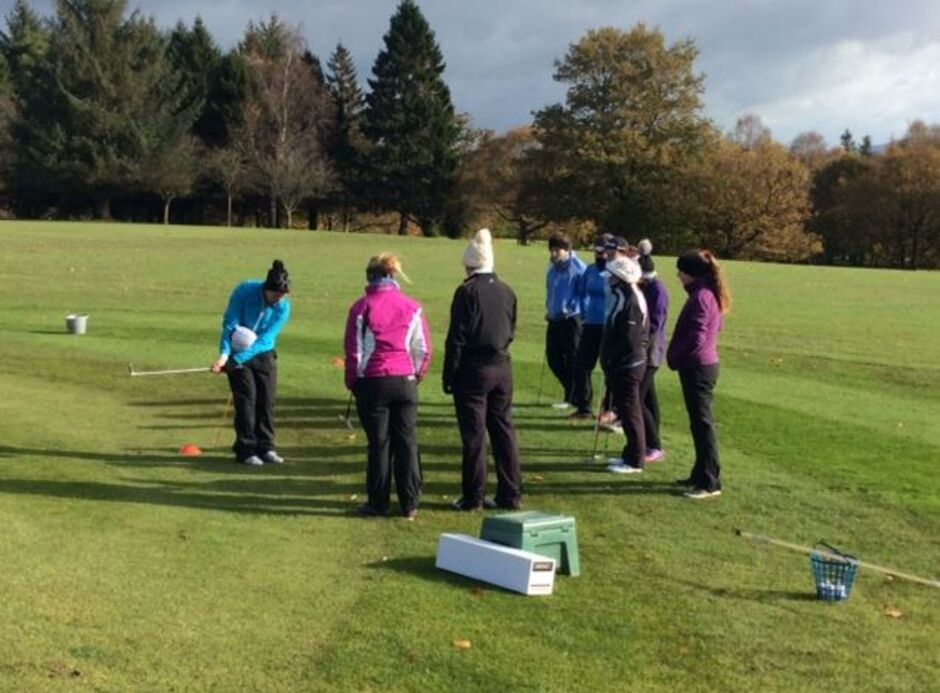 Devon Ladies' 1st Team
Inter Counties Match Week - Monday, 3rd July to Friday, 7th July
Wrag Barn Golf Club, Wiltshire
The following were selected to represent Devon:
Keeley Clarke - Torquay
Lexi Dart - Churston
Caitlin Evans-Brand - Yelverton
Grace Jackson - Exeter
Julia Norman - Exeter
Molly Pavey - Stover
Jo Shorrocks - Bigbury
Evie Stone - East Devon
Abby Turner - Okehampton
Non Travelling Reserves - Emily Morey - East Devon & Meg Rossouw - Yelverton
Selected by Sally Charnock as 1st Team Manager on behalf of the Selection Committee:
Angie Hickey, Chris Longden, Lesley Pascoe and Tiffany MacKenzie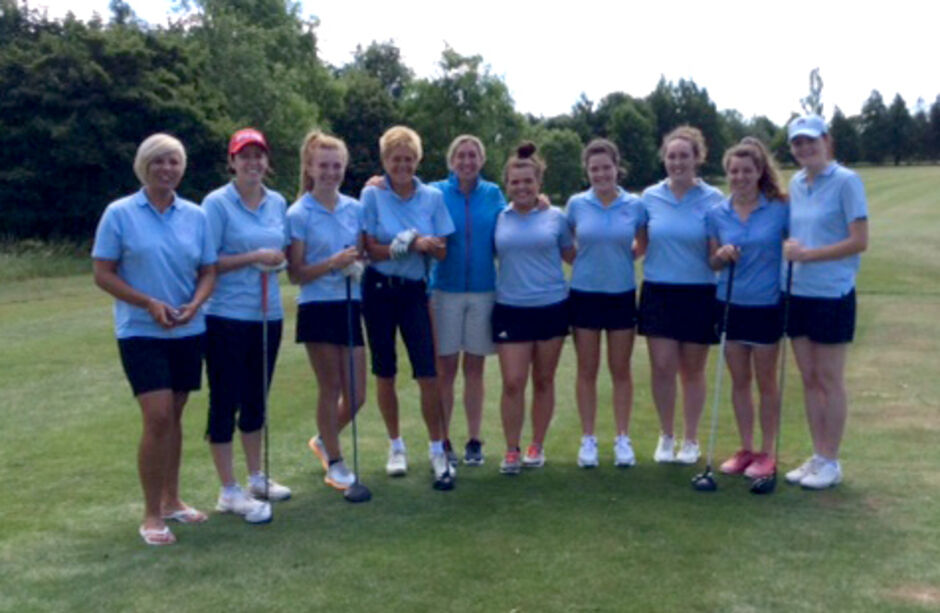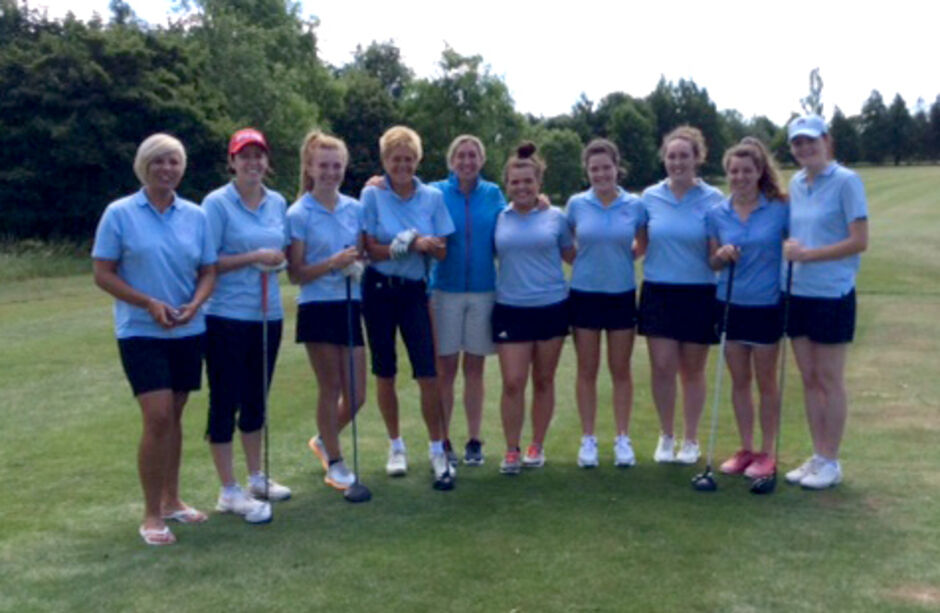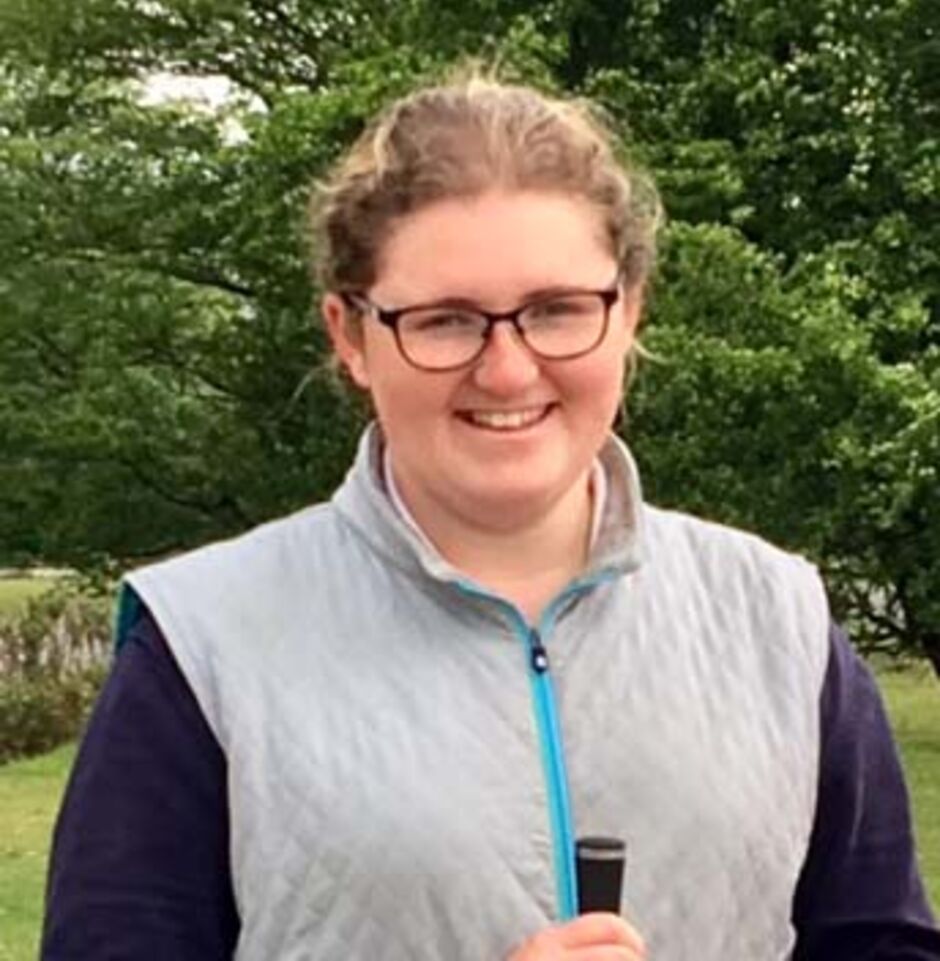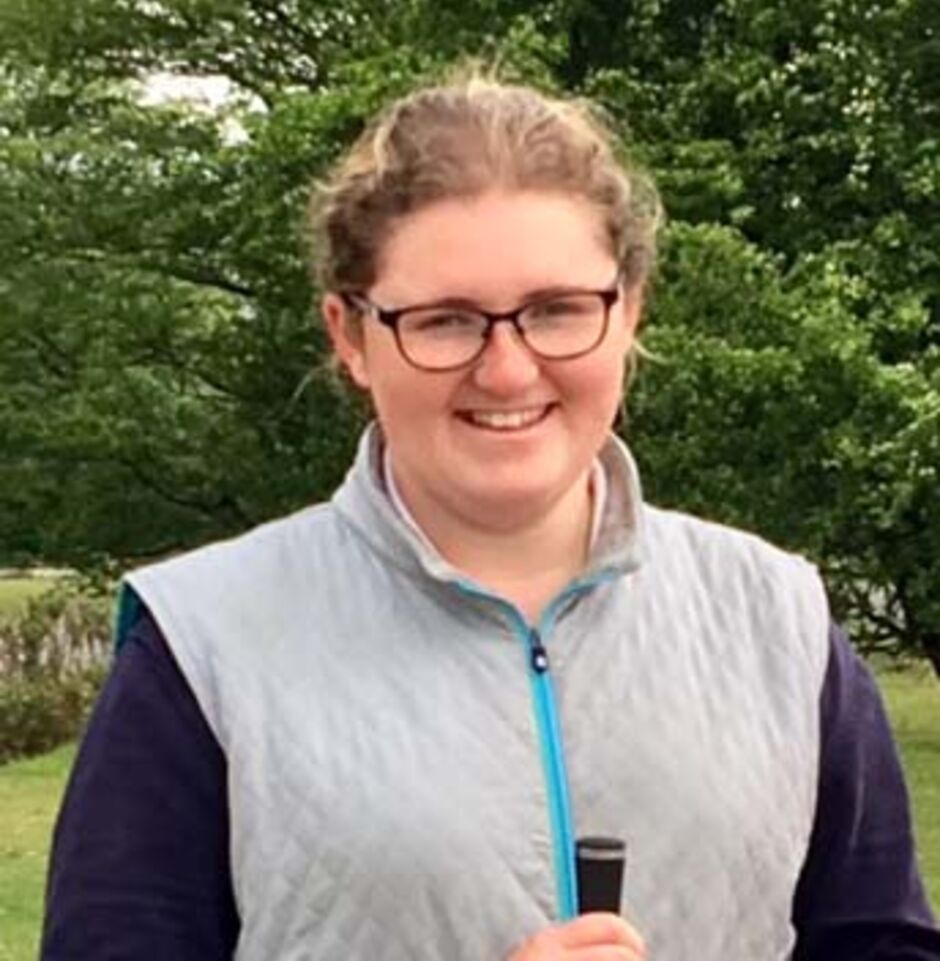 ICMW Team 2017 Reserve Emily Morey - to the rescue!
Click here to see final placing for all counties
Monday - Day 1- Devon v Somerset, Gloucestershire v Dorset & Cornwall v Wiltshire
First up at this year's Inter County Match Week were near neighbours Somerset. Julia Norman & Evie Stone brought home the first points of the week with a 5 & 4 victory. Grace Jackson & Caitlin Evans-Brand were up against an in-form Somerset pair and went down 5 & 4. In the final match Keeley Clarke & Jo Shorrocks went to the 18th where Somerset just edged the contest. Devon went into lunch 2-1 down.
Abby Turner led the way in the afternoon and had the misfortune of coming up against a player firing on all cylinders. Abby lost on the the 16th by which time her opponent had amassed 6 birdies - great golf by both players. Caitlin Evans-Brand was out second out and after a closely fought match finally lost on the 18th 1 down. Molly Pavey put the first point on the board for Devon in the afternoon with a 2-1 victory. Had the tide turned? Jo Shorrocks halved on the 18th and the match score was 4½ to 2½ to Somerset. The last two players out for Devon were the experienced Julia Norman (Exeter) and Keeley Clarke. Both players rose to the challenge with Julia winning 4-3 and Keeley 2 up. Afternoon to Devon - match halved 4½ each.
Click here for full Day 1 Devon v Somerset results.
In the other matches Gloucestershire beat Dorset and Cornwall beat Wiltshire.
Tuesday - Day 2 - Devon v Dorset, Gloucestershire v Wiltshire & Cornwall v Somerset
The team arrived at Wrag Barn determined to go one better than yesterday and achieve a match win for Devon. The morning foursomes finished all square after a win for Julia Norman & Evie Stone, a half for Abby Turner & Molly Pavey and a loss for Caitlin Evans-Brand & Grace Jackson. The half was achieved by winning the 18th hole, the momentum at lunch was with the Devon team. This momentum was maintained in the afternoon singles, which the Devon girls won 5 matches to 1.
The result 6½ to 2½ to Devon - great golf from Devon and we hope for more tomorrow against Gloucestershire.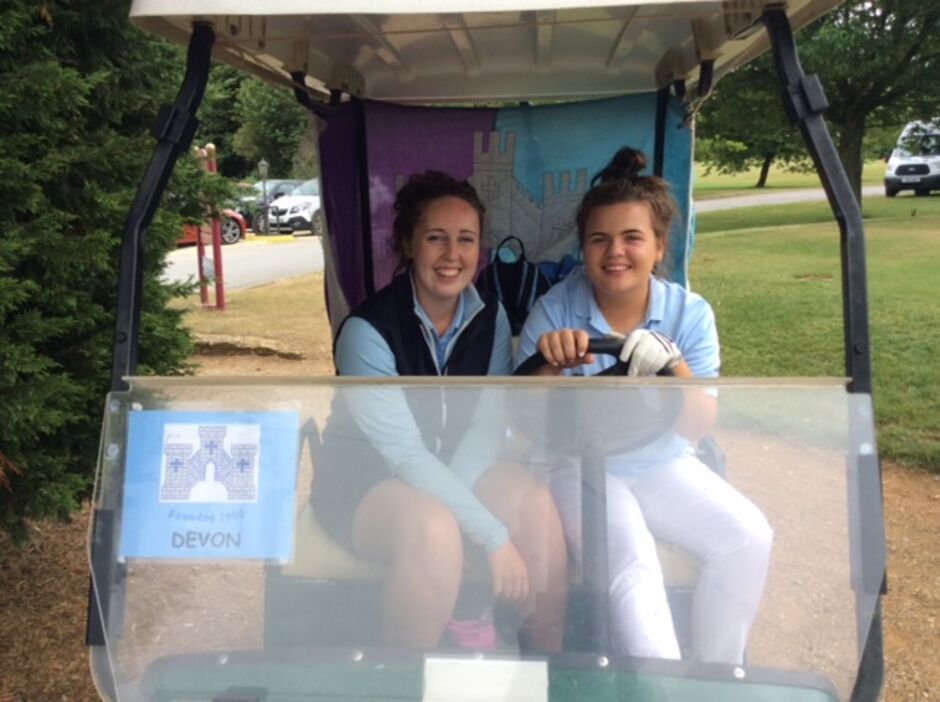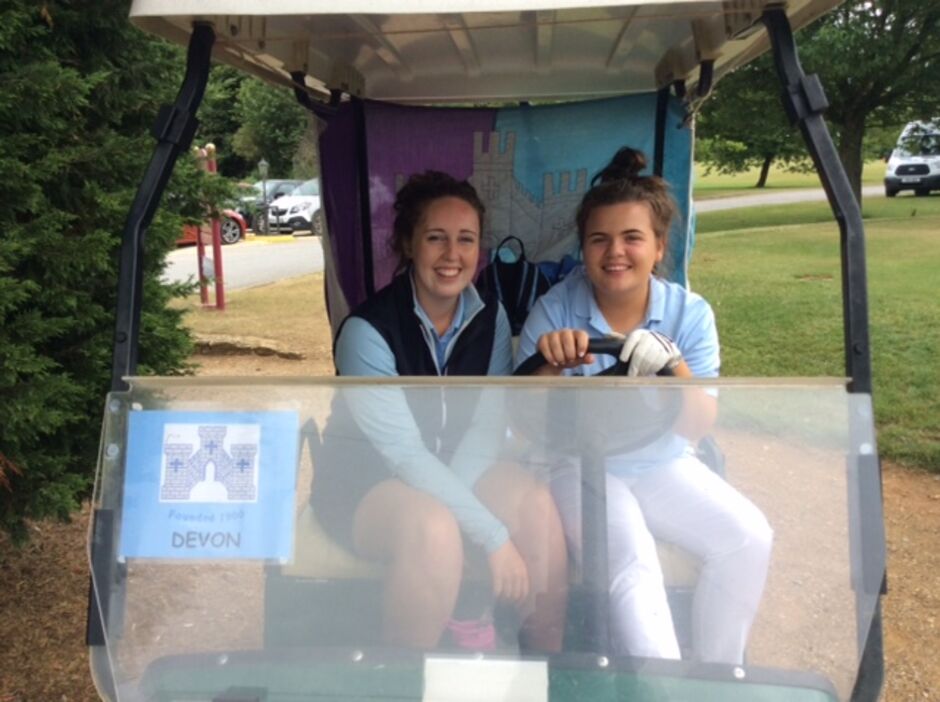 Grace & Caitlin enjoying the day
In the other matches Gloucestershire beat Wiltshire and Cornwall beat Somerset.

Evie Stone's winning Foursomes putt on Day 2
Click here to view full Day 2 Devon v Dorset results.
Wednesday, Day 3-Devon v Gloucestershire, Cornwall v Dorset & Somerset v Wiltshire
The team woke to wall to wall sunshine and, after yesterdays solid win, the team were in upbeat mood ready to take on today's opponents Gloucestershire. The first pair off were Julia Norman & Evie Stone and after parring the first two holes they took the lead, which they never relinquished and closed the match out on the 17th. Abby Turner & Molly Pavey were pairing number 2 and they also took an early lead which they never lost. Their cause was helped by Abby hitting tee shots on 2 par 3s within inches. They won on 16th 4-2. The anchor pair of Keeley Clarke & Jo Shorrocks went down early due to some tremendous Gloucestershire putting and, although they pulled it back to 1 down as they left the 14th tee, they lost on the 16th hole.
At lunch it was Devon 2 Gloucestershire 1.
It was a hard day at the office this afternoon for the Devon team as Gloucestershire proved why they are National Champions. The standard of golf played in all 6 singles matches was extremely high with birdies and eagles to the fore. All matches except one finished on the 16th or 17th. There were positives for the Devon team, besides the standard of golf they showed great team spirit and temperament. We will regroup overnight and be ready for Cornwall tomorrow.
At the end of the day's play it was Devon 2 Gloucester 7.
In the other matches Cornwall beat Dorset and Somerset beat Wiltshire.
Click here to see individual match results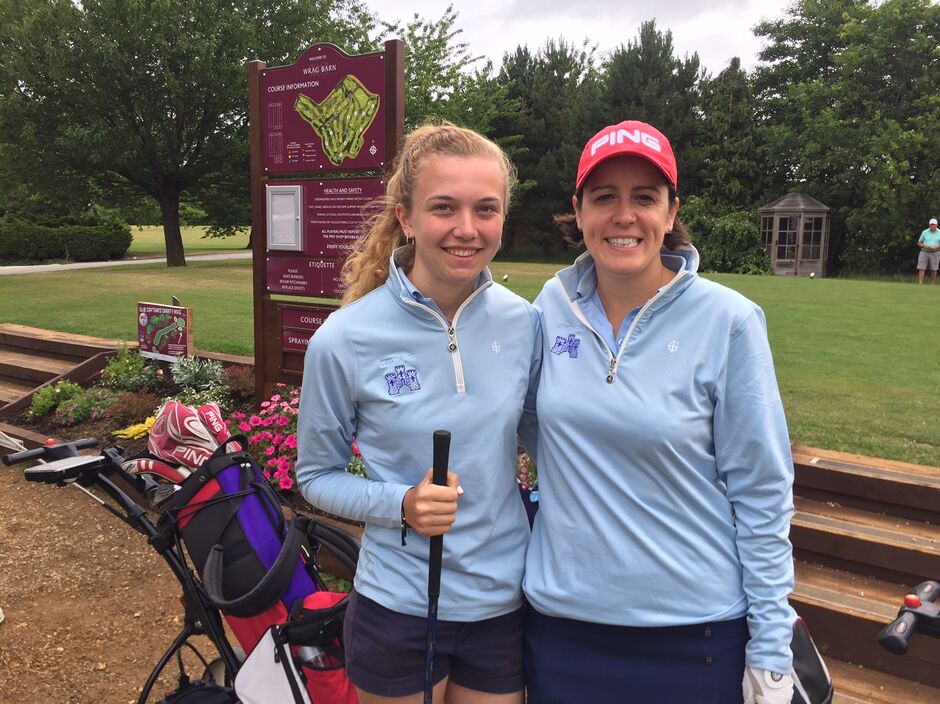 ​Molly Pavey & Abby Turner at Wrag Barn GC
Thursday, Day 4 Devon v Cornwall, Somerset v Gloucester & Wiltshire v Cornwall
After a good night's sleep the team were ready for the next tough match against Cornwall. Illness in the camp had resulted in the call up of reserve Emily Morey. The morning foursomes saw 2 new pairings in Julia Norman & Molly Pavey and Grace Jackson & Lexi Dart. Their matches were very close with Julia and Molly halving on 18 and Grace and Lexi losing on 18. The morning was 2½ to ½ to Cornwall but the margins are so small at this level.
The afternoon singles were shared 3 a piece. Keeley Clarke brought home the first point with a convincing 5-4 victory. The second point came courtesy of Emily Morey who had driven up from Devon this morning - a great effort from Emily. Then it was nail biter time, 1 down on the 17th tee Lexi Dart embraced the energy from the growing number of spectators and won the final 2 holes. 3-3 but again margins so small. Abby lost on 17 and Evie lost on 18. Although it was a loss the girls should be very proud of their play.
In other matches Gloucestershire beat Somerset and Wiltshire beat Dorset.
Cornwall and Gloucestershire are riding high at the end of Day 4. Devon and Somerset are neck and neck with Wiltshire and Dorset bringing up the rear.
Click here for Devon Day 4 Results
Click here for End of Day 4 Results
Friday Day 5 Devon v Wiltshire Gloucestershire v Cornwall Somerset v Dorset
The last day on the 2017 ICMW and Devon were playing hosts Wiltshire. Wiltshire's week had been given a boost the day before when they gained their first point of the week as they defeated Dorset. The morning foursomes saw the trusted pairings of Julia Norman & Evie Stone and Abby Turner & Molly Pavey and the exciting new combination of County Champion Keeley Clarke and Churston youngster Lexi Dart. The first pair of Julia & Evie took a few holes to find their form and having gone three holes down by the 8th turned the math around winning 2-1 on the 17th. Keeley & Lexi and Molly & Abby were never troubled and won 6-5 and 7-5 respectively.
It was a very happy lunch with a 3 game lead in the bag.
The afternoon singles also went Devon's way with wins for Keeley, Lexi, Abby and Evie. Molly's match finished on the 18th and Emily wasn't able to repeat her victory of the previous day.
In other matches Gloucestershire beat Cornwall and Somerset beat Dorset.
The week finished with Gloucestershire as SW Champions. Devon finished in third place on games won from Somerset who had the same number of points.
Click here for Devon's Day 5 Results


Practice Match at Woodbury Park- Sunday, 23rd April 2017
Eleven members of the county squad met at Woodbury Park on Sunday 23rd April for a foursomes match. The number of players participating was down due the demands of public exams, the clash of a national college golf event and injury. It was a valuable session as it enabled the management team to look at foursomes pairings for the forth coming season. The standard of golf was very high but everyones concentration was tested by what was going on close by on Woodbury Common. The billowing smoke from the fire was clearly seen and the sound of fire engines and helicopters were clearly heard. All players played 17 holes but we were greeted by the sight of fire service vehicles being reversed towards the lake on the 18th and hoses being unrolled. The lake was going to provide a water supply to fight what turned out to be the 100 acre fire on the common. The hotel had been evacuated although the clubhouse was still open. Match abandoned!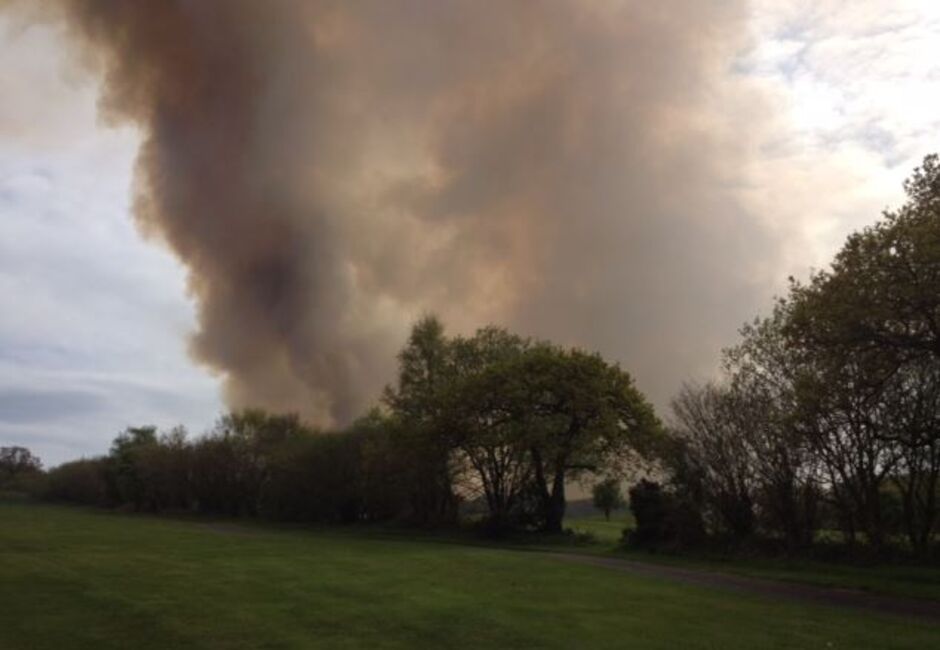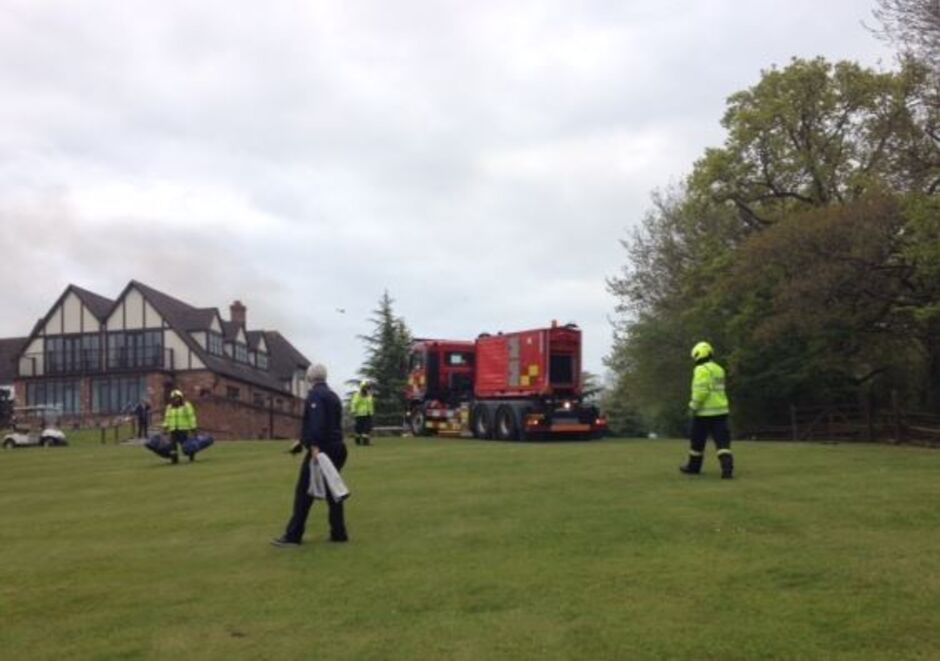 Coaching Event at Woodbury Park
On Saturday 11th March DCLGA County Squad members were invited by Devon Golf Ltd to attend a coaching event at Woodbury Park. The day consisted of two talks one by Andy Lamour, a physiotherapist who has worked at England Golf and with a number of tour professionals, and the other by John Bickerton an ex European Tour player. Both talks were very interesting giving an insight into what it is like to be on tour and helpful tips to help players of all abilities. John then held a short game clinic. Unfortunately he had a shoulder injury so Gary Milne, the DG Ltd County Coach, stepped up and hit the shots John was describing.
The players were also able to go on the Srixon Tour Bus and have the lofts and lies of their clubs measured and new grips put on their clubs.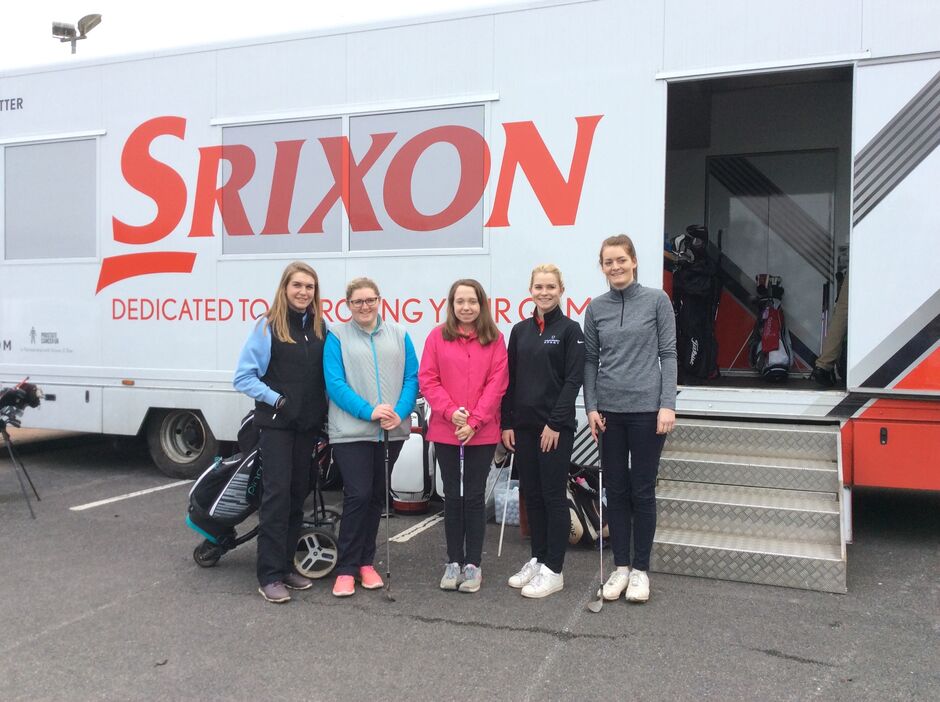 The DCLGA would like to thank Devon Golf Ltd, Srixon and Woodbury Park for a very enjoyable and informative day
County Squad Assessment Days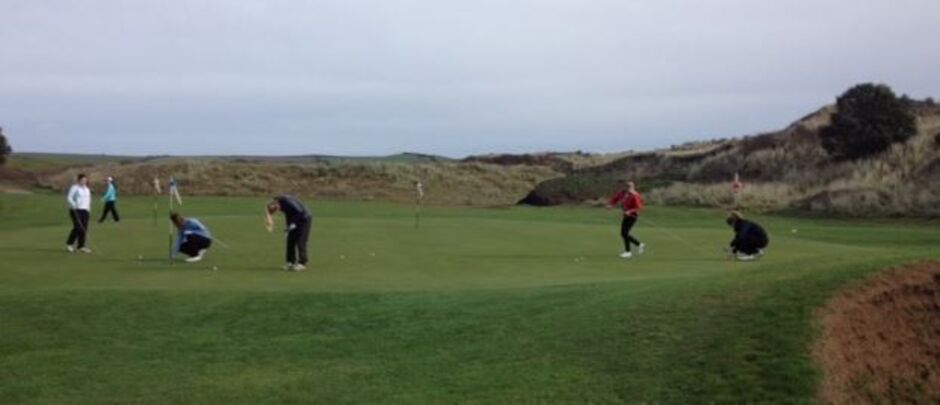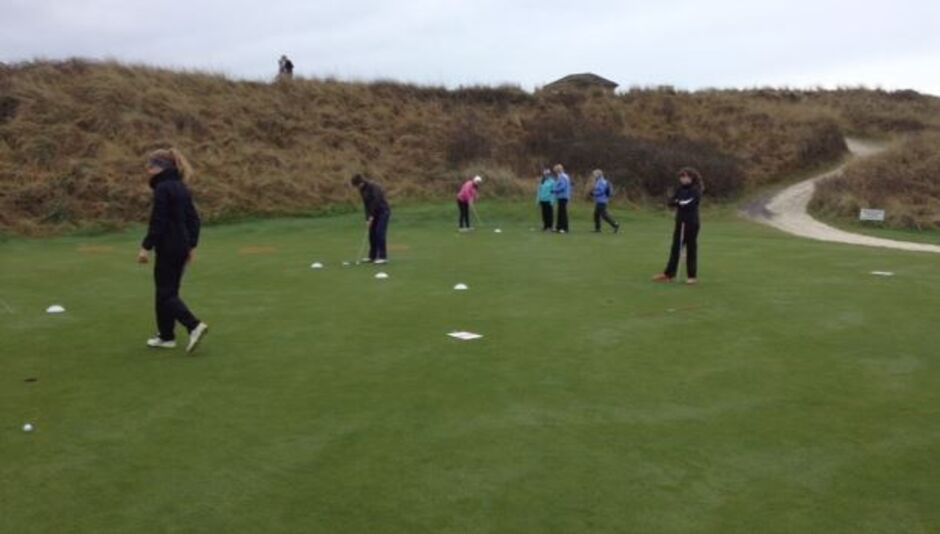 County Squad Assessment Days were held at Saunton Golf Club on the 5th and 12th February 2017. Tiffany MacKenzie, the County Coach, had arranged well structured and organised days. The morning session on each day comprised of a putting skills challenge, a short game skills challenge, Trackman Data Collection & long range pitching skills. After a quick lunch the players played 9 holes of stroke play golf. All these tasks were competitive with token prizes for each challenge. Valuable information was collected and will provide the basis for the coaching days to follow.

It was dry but rather chilly!


DCLGA Appoint County Coach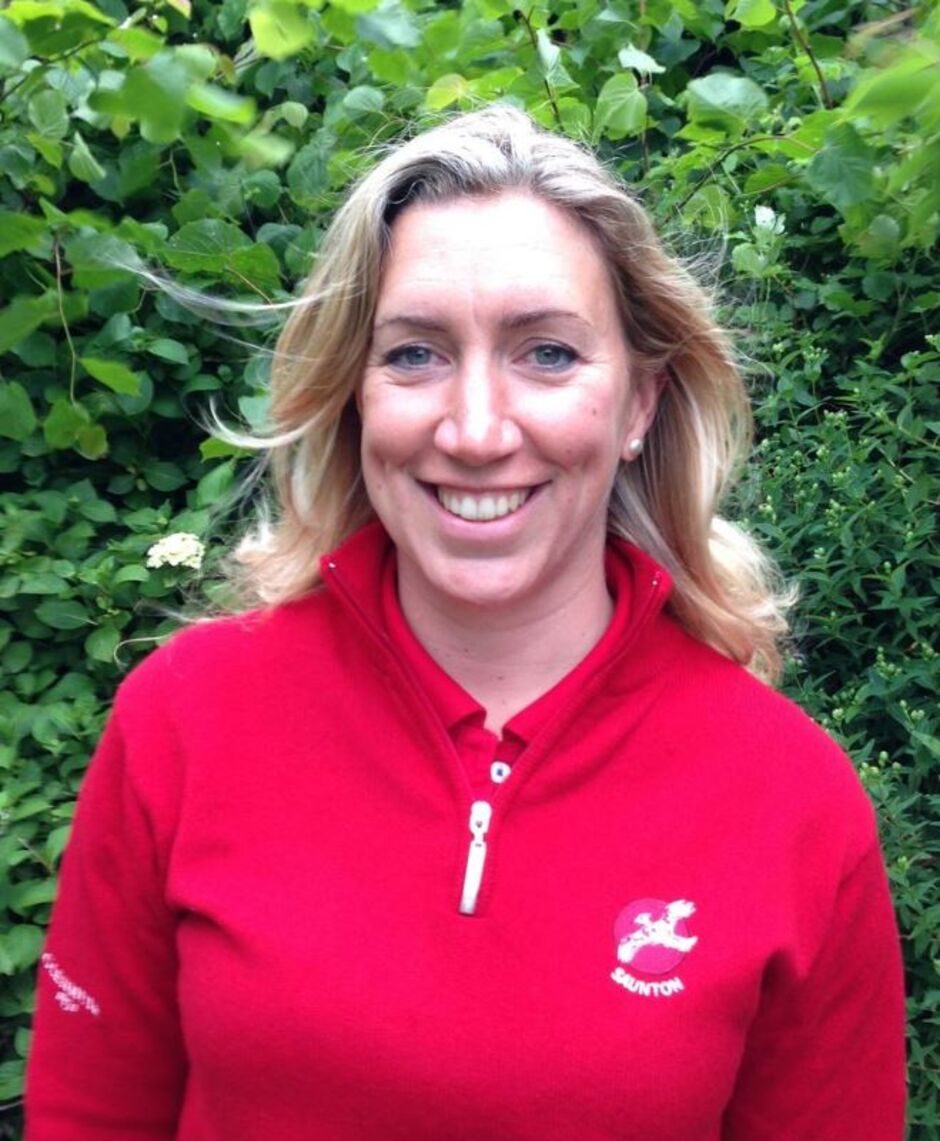 Tiffany MacKenzie has been appointed County Coach. Tiffany has a PGA level 3 certificate in Golf Coaching, PGA Membership Category Class 'AA' and is the Director of Coaching at Saunton Golf Club. Her experience is extensive including coaching in America, at Millfield School, at the Lee Westwood Academy and as a coach at the PGA Swing Zone at the British Open in 2010, 2011 and 2014. She is also a PGA Tutor and trains Assistant Professionals and volunteers to level 1 coach standard.
Tiffany was a County first team player for both Wiltshire and Devon, and won the English Girls Stableford in 1999. She was awarded a golf scholarship to study at Longwood University in Virginia, USA and spent four years as Captain of the Longwood University golf team. She won the USA North Eastern Division individual title, was a member of the team which reached the Divisional Championships in Florida and was selected by the NCAA as a member of the All American Team 2003. During her time at Longwood she developed her coaching skills, developing a holistic approach to golf coaching embracing goal orientated personalised coaching programmes, performance reviews, course management, understanding of the rules of golf, nutrition and personal fitness programmes and team issues.
There is little doubt she is well qualified to assist with the development of our whole squad into a force to be reckoned with!
Sally Charnock Appointed 1st Team Manager

Sally was a Devon County player, representing the first and second team for many years and still plays off a handicap of 6 at Saunton Golf Club. She, therefore, has considerable experience of playing for the county and understands many of the issues facing players whilst playing in county teams. As Sally has written, "Together with the support of the County Captain and our professional coach, Tiffany Mackenzie, I will be looking to help develop both individual players and overall team performance to make Devon serious contenders in County Match Week, in particular, when Devon next hosts the event at Woodbury Park in 2019."
It is hoped this new and professional approach, together with the full support and commitment of the players, will make the Devon teams a force to be reckoned with in future years.
1st Team Match V Exeter University Ladies' Team
On Sunday 9th October 2016 the DCLGA first team had their first ever fixture against Exeter University's Ladies' Team at East Devon. The format was 7 singles matches played off scratch. Unfortunately the University had a late withdrawal but one of their men's team kindly stood in. On reflection, he may have wished he hadn't as he went out first against Chloe Howard (Boringdon Park) and was on the wrong end of a 6-5 result. The players in the second match needed no introduction as Keeley Clarke (Torquay) was up against the University Captain and her Torquay Still Cup team mate Molly Haslam. Keeley, straight from victories in the Devon Champion of Champions and the EG SW Foursomes, was too strong for Molly on the day. There were wins also for team captain Abby Turner (Okehampton), Emily Morey (East Devon) and Laura Tregelles (Thurlestone). We didn't have it all our own way and the University gained 2 matches with wins over Grace Jackson (Tiverton) & Molly Pavey (Stover) and the final score was 5-2 to the 1st Team. The match was enjoyed by all the players and it is hoped another match can be arranged in the spring.
Many thanks go to Craig Townsend of Exeter University for arranging the match, East Devon for hosting it and to the DCLGA officials who came to support the team.

SW INTER COUNTIES MATCH WEEK AT THE MENDIP GC, SOMERSET
3-8 JULY 2016
A well-motivated squad of 11 players represented Devon at the above event, 2 of them making their first team debuts, (Amanda Burchell of Bigbury and Evie Stone of East Devon) and one of them (Julia Norman, Exeter) making a welcome return to County golf following reinstatement of her Amateur status. With 6 of the squad already having 1st team colours, we had a fine blend of experience and youth.
The course was fittingly challenging with small greens, playing long and often, because of its elevation, it was windy and unseasonably cold. The 18th hole gave us our fair share of joy and despondency and caused many excellent golfers to scratch their heads and ask "how DO you play this hole?"
First up, on Monday, was the "home" County, Somerset, and a really close match came to its conclusion on the aforementioned final hole when County Champion, Molly Pavey (Stover), held her nerve to sink a testing putt to secure a half point and give Devon a narrow victory (5-4). Meanwhile Gloucestershire were sending out their own message with a 7-2 defeat of Cornwall.
Tuesday saw us battling a strong Dorset side who took a 2-1 advantage from the morning foursomes into the afternoon singles. Those matches were mainly close and, with the score at 4
½

-3

½

in Dorset's favour, the tension was ramped up once more on the 18th green where a large crowd had gathered to watch the final action.
Once again, Molly was involved playing against Jane, a seasoned campaigner, who had pegged her back from 3 up to 1 up by the time they left the 17th green. After 2 good drives and the usual, subsequent, impossible-to-stop chips or putts, Molly was faced with chip back up the green knowing that she needed to get it in to halve the hole and win her match. What she didn't know was that we needed her to get it in to achieve a half overall…..
….Of course she did! And meanwhile Cornwall and Gloucestershire secured big victories (6-3 and 7
½

-1

½

respectively).
Wednesday brought a heavy defeat to Cornwall with only Abby Turner (Okehampton) registering a win and that girl again, Molly, securing a creditable half against Emily Toy.
Gloucestershire and Dorset continued the trend for big victories, both winning 7-2.
Thursday thrashings were dished out by Gloucestershire and Cornwall (both winning 9-0) and we were disappointed to lose a really close match to Wiltshire; this time, it was Laura Tregelles, (Thurlestone), playing only her 2nd ever Match Week singles, who found herself the object of a large audience and needing a putt on the mercurial 18th green, to secure a half. Agonisingly, her putt slipped inches by and we lost 5-4. Not our day.
Friday, brought perennial Champions and thus far, undefeated Gloucestershire, who had previously dropped no more than 2 points in any match but we fought hard/played well and won 3 matches (well done Keeley, Evie and the new foursomes pairing of Abby and Molly). 2 more were lost on the…..
….you know where!
Many congratulations to Gloucestershire who were worthy Champions and we send them our best wishes for the National Finals in September.
Congratulations also to Cornwall who have a fine squad and finished 2nd, amassing 33
½

points over the week compared to 36

½

for the winners.
As for Devon, we have to say that both of those Counties were just "too good" but the positives we can take out of the week are that we know where we have to get and there is much determination amongst our squad and officials to do all we can to close the gap.
My grateful thanks go to Vice Captain, Angie, Selectors, Lesley and Chris, and Abby who acted as "Players' Captain" all week. Also, we would all like to thank the Parents, former players, past Captains and other spectators who supported us in person and also for the many "Good Luck" cards we received.
Last, but by no means least, I would like to thank the squad who were a joy to be with and played with great pride and determination and no little skill. The emphasis was on "TEAM" and the spirit was really good; the end result was disappointing but the future is surely bright.
Alison Hilton
County Captain 2016