News & Events 2018
Devon Lady Captains' Golf Society
Events 2018
29th March - Open Coffee Morning at Stover Golf Club
17th May - The Spring Meeting at Stover Golf Club followed by The Annual Dinner
19th July - The Captains' Bowmaker at Exeter Golf Club
12th October - The Autumn Meeting Greensomes at Tavistock followed by the AGM
Matches 2018
Matches will be played against Dorset, Somerset, Cornwall, Devon Men's Captains, Devon Senior Men's Past Captains and Devon Lady Vets - for dates click here
-o-0-o-
Hello Ladies. I'm sorry it's been rather a long time since you were brought up to date with our news.
We have played 2 matches and held a Bowmaker at High Bullen. The team went to Weymouth on 12th July on another beautiful day, and the team battled in a hard fought match. This time Dorset came out on top with a 4½ - 3½ win. It was still a most enjoyable day and Margaret Swift and the Dorset ladies made us most welcome.
The Bowmaker was next on 20th July. We had a few problems with diversion signs sending us round the houses. However Stephanie Atkinson and her team soon sorted it out and we had a healthy field of 60 ladies playing this beautiful course in sunny weather.
An Ilfracombe team of Linda Barrington, Jean Pell & Janet Phillips were the winners with a fantastic 86 points. Second with 81 points was Shirley Pressey, Brenda Somerfield & Marie Timms from East Devon & Sidmouth. In third place, on count back with 79 points, were Jill Bastock, Val Kimberley & Anne Scholes from Ilfracombe. In fourth place were Ann Wallace, Fran Ford & Marion Carlo from Saunton. Nearest the Pin for Silver was Steph Long and, for Bronze, Catherine Davey. Silver & Bronze Liz Turner. Longest Drive Silver was Jo Lloyd Davies and Bronze Abbé Scholes. The Captain's Prize was won by Steph Long. There were three 2s, each worth 12 balls and the winners were Jean Pell, Mandy Hall and Molly Cayliss.
I do hope everyone had an enjoyable day, although I suspect the Churston team of Angela Phillips, Val Benbow & Ann Clayton may not have as they had an errant trolley, bag and battery take a dive into one of the water hazards. The High Bullen greenkeepers went above and beyond the call of duty to retrieve it all - I do hope all is now dry and working.
On 24th July we played Cornwall at Okehampton and had yet another fine and sunny day. It was another closely fought match with 4 of the matches going to the 18th. This time Devon came out on top with a fantastic 7-1win. Everyone had a fun filled day finishing a lovely meal.
Happy golfing ladies and I look forward to seeing some of you at the matches and most of you at the Autumn Greensomes on 5th October at Teignmouth Golf Club.
Cherry James, Captain DLCGS 2017
Somerset v Devon - Weston-Super-Mare Golf Club - 29th June 2017
The season is now well under way and the first match of 2017 has been played. We were playing Somerset Past Captains at Weston-Super-Mare and, although we left Devon in miserable wet conditions, the weather cleared as we made our way up the M5 and it stayed dry with no wind all day.
We were concerned when we pulled into their car park as there was only one spare space. When entering the clubhouse it was full - and I mean full of men! It seemed they had a Probus meeting and a Driving Awareness Course which was why the parking spaces were in such high demand. However we were warmly welcomed and told not to worry about the parking as ladies could park on the grass.
After coffee and sandwiches we teed off - one lady short due to my muddling Weston and Weymouth in the emails!!
Never mind, Devon ladies rose to the challenge and most of the matches were very close. Yvonne Bladon and myself won due to an exquisite approach shot by Yvonne, followed by sinking the putt on the 17th giving us the 2/1 win.
Stevie Foster and Sue Jones, never having played together before, won 1up and have asked if they can be partners again. Such is the power of golf and friendship.
Helen Loweth bravely played on her own and, although her opponents were very friendly, succumbed to their superior fire power.
Lin Atkinson and Lorna Hunt were next out and after a hard fought battle won with the last putt on the last hole.
Tina Scanlon and Rickie Pawsey had our biggest win of 3/1 even though Tina was giving 15 shots, the most any of our team had to give.
Marylin Lucas and Janet Emery had a real good battle with very few shots either way. So they gave the opposition a glimmer of hope losing 3/2.
Jan Cousins and Sue Granville-Smith battled to the last to win 1up with Gina Ollier and Shirley Fenton doing the same - giving Devon ladies the 6-2 win.
However, the biggest winner of the day was fun and friendship and, with a very tasty meal supplied by Weston-Super-Mare golf club, I feel I can honestly say our first match was a wonderful way to start.
Cherry James, Captain DLCGS 2017

Spring Meeting on Thursday, 18th May 2017
at Okehampton Golf Club
We held our Spring Meeting on 18th May at Okehampton Golf Club. The weather held out for us and the rain held off all day! Even though Okehampton Golf Club proved 'challenging', everyone seemed to enjoy themselves which is what this Society is all about! Good company and good fun playing different courses.
The prizes were spread around, although Okehampton ladies did exceptionally well, they were pushed to countback in most places.
The 'Captains' prize was won by our own Lady President Ann Legg who scored 15 points over the 7 nominated holes. The Lady Devon Captain Angie Hickey won the Silver Longest Drive with a 'borrowed driver' (don't think she'll give it back!!). It was a pleasure that Jose Bruce, the lady who started this Society in 1964, presented the overall winner Lorna Rolfe (Ashbury-36 points) with her trophy and attended the dinner which was also well supported and Okehampton Caterers did us proud.
The Chambers Vets Salver 60+ was won by Mary Keir (Okehampton) 33 points.
Marjorie Metherall 70+ was won by Jane Warren (Okehampton) 35 points.
Silver Division:
Elizabeth Wood, Honiton - 33 points
Angie Hickey, Stover - 30 points
Olwen Eaton, Honiton - 29 points
Gillian Down, Bude - 29 points
Mo Huggins, Ashbury - 29 points
Lesley Crossley, Tiverton - 29 points
Wendy Phillips, St Mellion - 28 points
Bronze 1:
Janice Thwaites, Okehampton - 32 points
Maureen Willcocks, Okehampton - 32 points
Julie Bacon, Boringdon Park - 30 points
Katie Purcell, Wrangaton - 29 points
Barbara Lunt, RND - 29 points
Sylvie Gowers, Okehampton - 28 points
Mary Wilson, RND - 27 points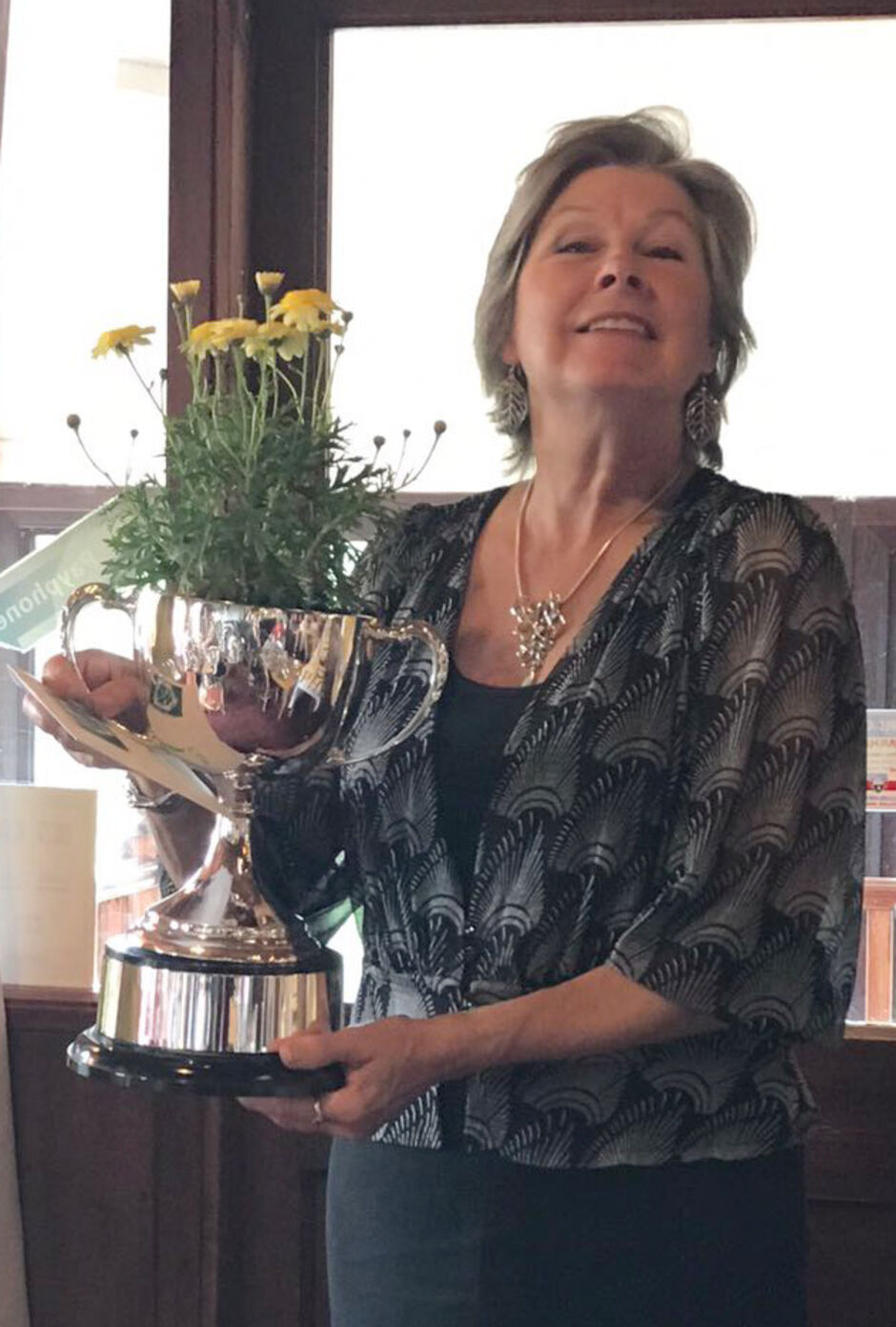 Janice Thwaites - Bronze 1
Bronze 2:
Doris Jewell, Okehampton -32 points
Pauline Sparkes, Saunton - 29 points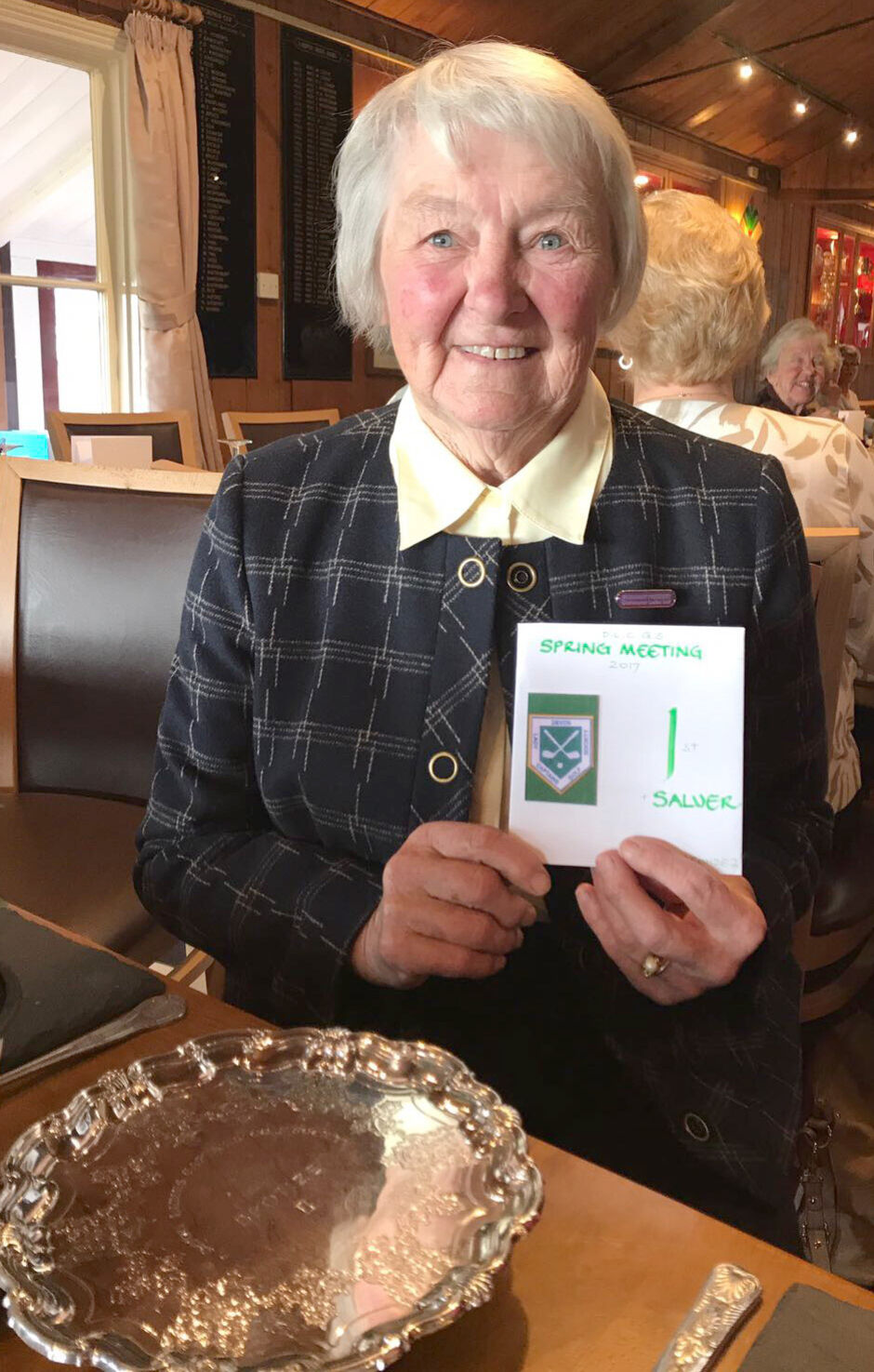 Doris Jewell - Bronze 2
Longest Drive Silver - Angie Hickey, Stover
Longest Drive Bronze - Mary Wilson, RND
Nearest the Pin Silver – Glynis Spearman,Teignmouth
Nearest the Pin Bronze – Sylvie Gowers, Okehampton
Green Line – Gillian Down, Bude
Front 8 Silver – Glynis Spearman, Teignmouth
Front 9 Bronze – Wendy Roberts, Wrangaton
Back 9 Silver – Sue Ritchie, Honiton
​Back 9 Bronze – Gail Stuckey, Tiverton